My Gram was always saying, "the road to a friend's house is never long" and I kept thinking of that as we zoomed along to Saulnierville on Friday for a weekend trunk show and workshop. We made awfully good time on that beautiful sunny day and enjoyed the drive a great deal. It was Apple Blossom Festival in the Annapolis Valley and there were lots of blooms to be seen. This was my third trip to Saulnierville in 6 years and although there was just one friend back then (Joan Tufts) it now feels like I've got a bunch. These Clare gals are warm and welcoming and make you feel like you've known them forever. Hubby came with me to help with the driving and lugging, and his presence was most appreciated, as it always is. We stayed at
Chateau Saint Marie
, a fabulous spot.
We had the room at the top of the stairs. The rounded seating area was a perfect spot for watching the sunset over Saint Mary's Bay. (Or so I heard; I was busy at the trunk show as the sun was setting!)
We had a delicious seafood dinner at
La Cuisine Robicheau,
and ran into quilting friends there from the Shelburne area who were in town for my trunk show (I really appreciate you coming!) At the trunk show, we were warmly greeted by members of La Guilde Acadienne de Clare, as well as guests from several surrounding guilds. I showed my New York Beauty quilts to a roomful of smiling women and then signed copies of my new book,
Quilting Beauties.
Simone Saulnier graciously stepped in to help - as she always does - and I am so grateful to her for making it so easy for me to just chat while she did all the work!
Later that night, Beth and Lou from Mrs. Pugsley's Emporium in Amherst checked in also at Chateau Saint Marie and that was fun to have them there. The friendly owners served a fabulous breakfast in the morning, including the best cup of coffee I've had in ages. If you have reason to be in this area, we highly recommend
Chateau Saint Marie
. (and if you have no reason to go, this inn is reason enough - a destination in itself.)
Saturday morning, bright and early, I gathered with 25 women at the church hall for a workshop entitled "Diamonds Are A Girl's Best Friend". We learned how to rotary cut 60 degree diamonds, piece them into log cabin blocks, and sew Y seams. They made amazing progress and I hope to have pictures soon to share here. I didn't take one all day!! The ones you see below were all taken by Lou Harrington (thanks, Lou!)
At the other end of this huge room, Mrs. Pugsley's Emporium had an amazing display of fabric and notions for sale (the amazing part is that this all fit in a not-very-large car!)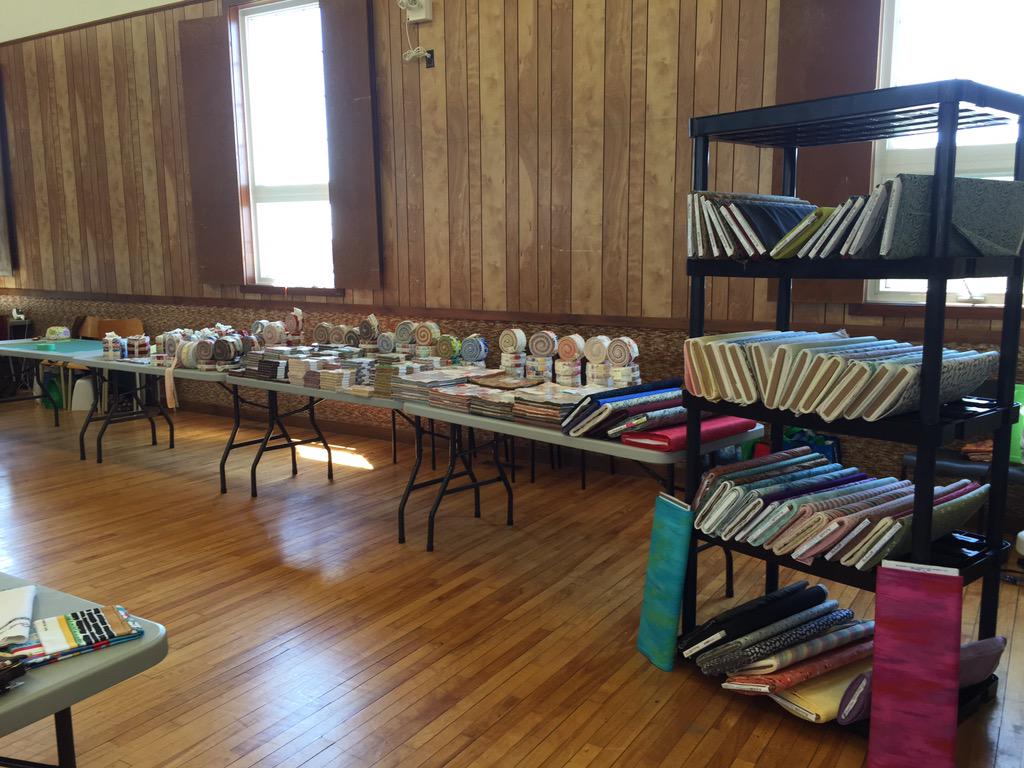 It was a wonderful trip and we left Saulnierville tired but happy...and with a few souvenirs. Hubby got me this T Shirt:
He was happy to score some of his favourite Solomon Gundy, and to see where it's made. (You can tell he got into it before I could get a picture taken!)
The Guilde gave me a lovely plant, and Joan gifted me with this gorgeous batik bag. I love the shape, and it's a perfect size. Thank you, Joan!
We returned home to find that Polly felt her caregivers were a bit stingy doling out the treats for her good behavior. She was forced to take matters into her own paws. Yes... she ate the whole bag!
My sincerest thanks to my friends at La Guilde Acadienne de Clare; we had a wonderful time and can't wait to come back!